Let's be honest. I was never one of those girls who spent their childhood and youth dreaming about their wedding and planning every detail. Truly, the idea of being in a relationship horrified me and being so hopeful that I might ever find a boy I'd want to date let alone marry seemed like a jinxed curse! However, things never happen how you expect them to and while I'm definitely not engaged/thinking about being engaged, my optimism in the future has been restored since being in a relationship.
It's not that I think he's the man of my dreams and I've already figured out every detail of my wedding specifically with him in mind, but I've started to realize how wonderful it is to have a best friend you have a crush on who has a crush on you too and that my wedding will be a wonderful day for getting to officiate being with whoever that person is for a lifetime. I think it's pretty cool. Amber and I started talking about our dream weddings on facebook and ever since, I've wanted to do a post about my ideas so badly! Filling in for her was the perfect opportunity!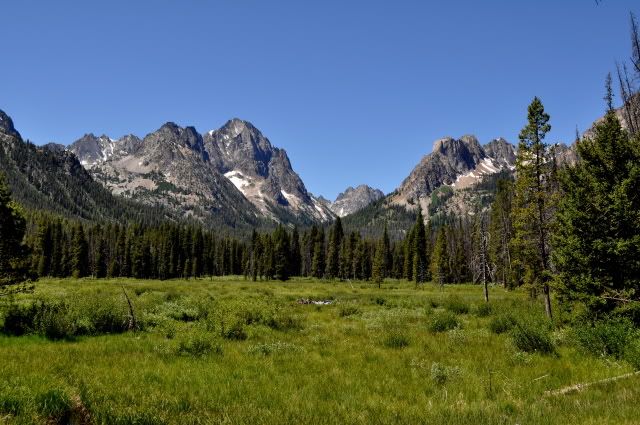 Anyways, it only became clear me to this year when I started to daydream that there was really only one place I can ever get married. And, in the blink of an eye and spark of one memory, my location is solidified. In my dream wedding, I'll walk down the aisle on the sandy beaches of Redfish Lake in Stanley, Idaho or through a meadow filled with thousands of wildflowers overlooking the Sawtooth Mountains. My family has spent our family reunions at Redfish Lake since I can remember and my mom spent her childhood camping there as well.
For the past twelve years straight, we've swam in the Redfish Lake waters, hiked the Sawtooth mountains, camped around the fire in the Glacier View Campground, walked to the Redfish Lake Lodge, and fished along the thousands of trails. I picture myself getting married in the early summer with the family I've been going to Redfish with since I was five years old in the early morning, before the public has made their way to the beaches and before the water turns wild with boaters and skiiers.
Surrounding the "summer lake" location, I really really love the idea of almost a "Fairy/Woodland" theme. Now, bear with me. I'm not thinking glitter and little fairies. I'm thinking natural wood tables and seating, lots of wildflowers at the tables, and just an eclectic feel. Glass vases for wild sunflowers and daises in multiple colors, white lace tablecloths, dark wood tables. Something that looks like this!
When I picture the bridal party, I want to maintain the fun/whimsical theme. I picture gingham shirts for boys, with suspenders and boat shoes. Or cardigans. And bowties. For girls? Choose your own dresses girls! Pastel colors. Knee length.
And...for my dress... let me tell you, that's the one thing I can't picture! I know I want something classic. Something flattering. Something I'll look at fifty years later and still think it's as beautiful as the day I wore it. I love lace. I love classic cuts. I love simple! No crazy trains, no crazy frills, no mermaid styles, no poofs and no puffs!
I really love seeing DIY projects at weddings. Whether it be invitations, fun games, seating charts, signs, anything. It's just cute. And a money saver!
Anyways, thank you for letting me fill in Amber, and thank you guys for reading!